Begin with a solid business concept.
It can be simpler than you think to launch a business, if you're wondering how to do it. Like most highly successful firms, you'll want to start by making sure your idea is solid. From there, you can create a good or service that meets a consumer demand. However, you'll want to make sure you conduct your research before you take any action. This is essential because, according to estimates, only 79.4% of businesses last past their first year of existence.
Find the best startup growth tactics whether you're launching a business in retirement or just want to increase your income. Don't be frightened to start your business as a sole proprietorship because you may always expand and recruit staff in the future.
Consider these simple startup choices to assist you come up with ideas:
commercial consulting
janitorial services
preparing taxes and maintaining books
Event preparation
jewelry creation
writing assistance
Personal instruction in music
Landscaping, graphic design, and computer training
financial preparation
Photography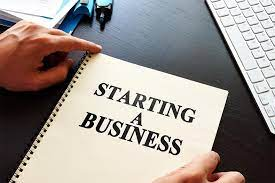 Perform Research on Your Business Concept
The next step after having a small business idea is determining whether it is worthwhile to pursue. Use market research to accomplish this, and make sure to assess your competitors. You can determine your audience's interest by doing this and:
Recognize the needs of your customers
Determine any issues that might arise with your product or service.
reduce financial losses by supporting better informed decision-making
Set goals that will help your business by discovering niche markets you may not have been aware of.
You should: in order to conduct research effectively:
Determine your target market by considering who will profit from your product. Additionally, you should consider variables like age, geography, and even marital status.
Engage your audience by conducting surveys and speaking with individuals one-on-one to acquire more input after identifying your target market. Don't forget to engage with them on social media, which can be a great platform for doing so.
Analyzing competitors' websites.
You can get a better understanding of what already exists in your sector by analyzing competing goods or services. This can direct you toward strategies to strengthen your concept. Before investing time and money in its creation, it might also assist you identify its weak points. During this process, be sure to take note of your competitors' prices. This will give you a range of how much buyers are currently paying for comparable products.
Write a business plan
Your present and long-term objectives are listed in your business strategy. This is a tool that successful companies use to plan the course of their firm. Yours ought to contain:
Page titles and contents Investors examine your business strategy to gain a sense of it. Hence, maintaining organization will be easy.
Product Discription: Merchandise descriptions Describe your goods or services in depth and how they help your clients.
Market analysis: Describe your target market's demographics, purchasing patterns, and expectations.
Competitor analysis: This should identify the advantages and disadvantages of businesses that provide comparable goods or services.
Making a company plan is crucial since it may guide your decision-making and make it more effective and strategic. It also aids in maintaining focus on your objectives and plans. Another advantage of a business strategy is that it can assist you with:
Identifying potential flaws
Communicating with stakeholders on your ideas
Putting vital data about your company in order
Choosing the ideal workers for your business
Officialize Your New Business
When you've spent a lot of time investigating your idea and are confident that it has staying power, It's time to go formal in order to advance your company in the market.
To accomplish this, you should:
Registering your company with your state gives you the legal right to use the name of your brand going forward.
Obtain the appropriate licenses and permits: This may involve food, liquor, health, or business licenses, depending on your line of work.
Obtain a tax identification number: The IRS can now follow your transactions thanks to this. This is also required in order to open a bank account.
These methods assist you in developing a brand name that only you may use. Once you've obtained formal status, you can start
a business office and have an internet presence.
Have a Financial Plan
Perhaps you've thought to yourself, "How do I start a company without any money?" Here are some pointers for obtaining the cash you require for long-term success:
requesting additional funds from your relatives and friends
borrowing money for a tiny business
searching for local or grant funding
attracting angel investors to support your business
What kind of business can I start with no money? is another question you may have been asking yourself. Check out a few of these part-time business ventures to see if you can eventually attract enough clients to go full-time with them:
independent writing
commercial consulting
design for print
Tutoring
internet site
individual training
pet sitting childcare
record keeping
Inside-out design
Guard Your Company
Small business startup is labor-intensive and expensive. Therefore, you'll want to safeguard it with the appropriate commercial insurance protection, including:
Protect your business from potential claims involving personal harm, property damage, libel, or slander with general liability insurance.
Insurance for business revenue can help you make up lost income if a fire, theft, or wind-related closure forces you to temporarily halt operations.
Data breach insurance helps cover costs in the event that your patients', clients', or workers' confidential information is misplaced or stolen.
In the event that you are sued for negligence or mistakes in the services you render, professional liability insurance will protect you.
Commercial property insurance that assists in covering losses to your structure, machinery, supplies, furnishings, and fixtures.
Additionally, you can combine these under a BOP coverage we offer.
Develop Your Company
You cannot create a powerful business without making time or financial investments. Additionally, you'll need to market your company and create a potent marketing strategy.
Building a business today also entails having a strong online presence on social media. You can use these to better understand your clientele. You can even ask for clients' email addresses using them, allowing you to market to them directly. Are you stranded on how to start a business or stuck on ideas of starting a business? Let us coach you today. Reach out for more information.